Memorial Day Weekend Hours
Saturday - Closed
Sunday 1-5PM
Monday, Memorial Day 12-4 PM

SUMMER HOURS WILL START ON MONDAY JUNE 13th!
​Our current studio hours are as follows:
Monday - Closed
Tuesday - NOON - 7 PM
Wednesday 11 AM - 6 PM
Thursday 11 AM - 6 PM
Friday 11 AM - 6 PM
Saturday 10 AM - 5 PM
Sunday 1 PM - 5 PM
We are always open by appointment and reservations in the evening. For private events we do ask for a small deposit to hold your date on our calendar.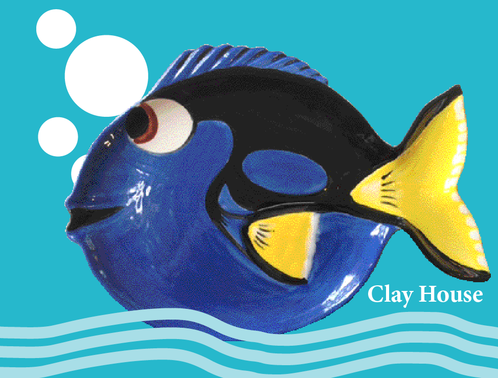 KIDS! Guess where you can make your very own plate this summer that looks like a famous blue fish that will be swimming in movie theaters soon!
KIDS CLASS - TWO DATES TO CHOOSE FROM!
Saturday, June 18th
10 AM - NOON
All the instruction you will need to make this adorable plate!
Cheese Pizza Included
OR
Monday, June 20th
11AM - 1 PM
Cheese Pizza Included.
Cost is $20 per person
Call the studio at 715-355-9999 to register and place a $5 deposit.
This is a drop off class at the Clay House in Weston.
---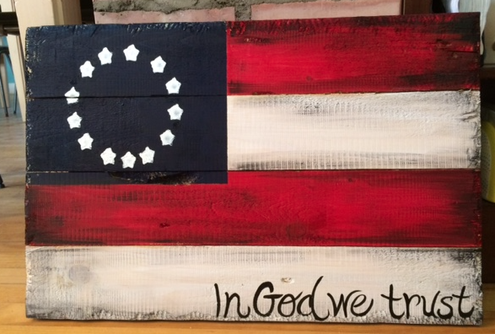 Perfect for the 4th of July
Flag painting class
Monday, June 20th
6 PM - $40 plus tax
Clay House in Weston
Call 355-9999 to register
and place a deposit.
---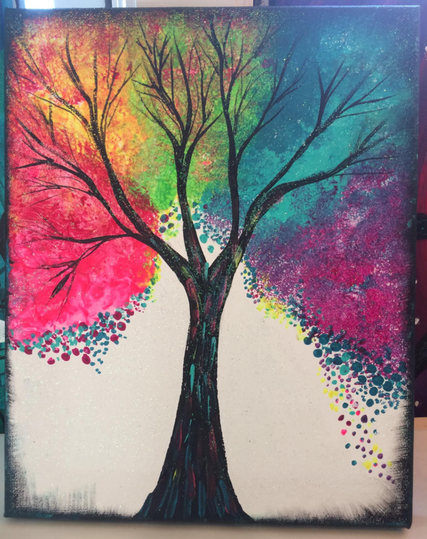 Multi Colored Tree
Wednesday, June 29th - 6 PM.
Canvas OR Wood class - you choose which one you want.
11x14 canvas $25 plus tax
16x20 canvas $35 plus tax
!6x24 wood $48 plus tax
Call the studio to register and tell us at that time which size you would like to paint.
A $10 deposit will be taken at that time.
​715-355-9999
---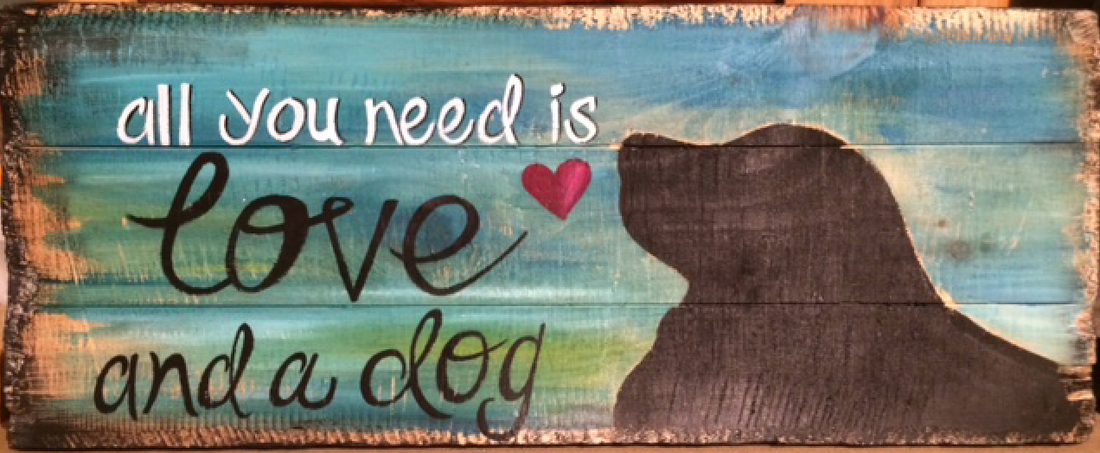 We had a house full of dog lovers painting their best friend's silhouette onto rustic white pine wood.
The horse class was a private group - ages 9-13 years old with a couple of adults added in too! They requested this design and we taught it to them. It was a lot of fun and these paintings will be entered into competition. If you have a group of 8 or more we would love to schedule a private event just like this one for you too!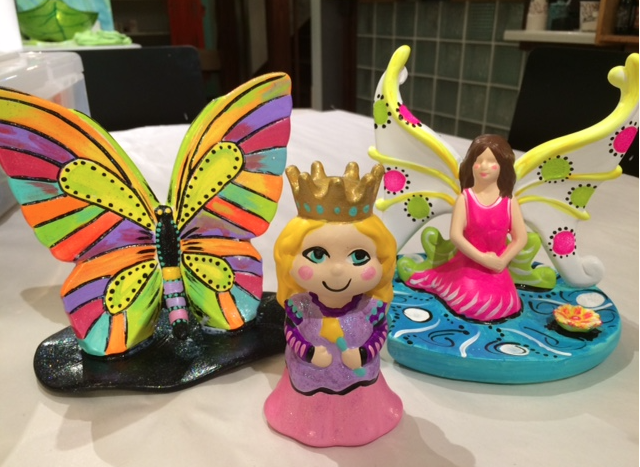 Pottery you paint and take home the SAME DAY!
We have another NEW item at the Clay House. Pottery that is made to be painted and taken home the same day. This option is great when your children don't like to wait for their creation to "bake in the big oven" and when you bring in friends and family from out of town that don't want to ship their items home. There are limited pieces at this point, but here is an example of three of them that we carry in our studio. If they take off, we will carry the whole line. Prices are the same as the pottery that we fire. Paints and finishes are different. Of course, glitter is included!
---
We offer several items that you can make and take the same day. For example, these
8" wooden shapes are really fun for kids to paint, add glitter or gems, a magnet and take home. Priced between $11 and $15.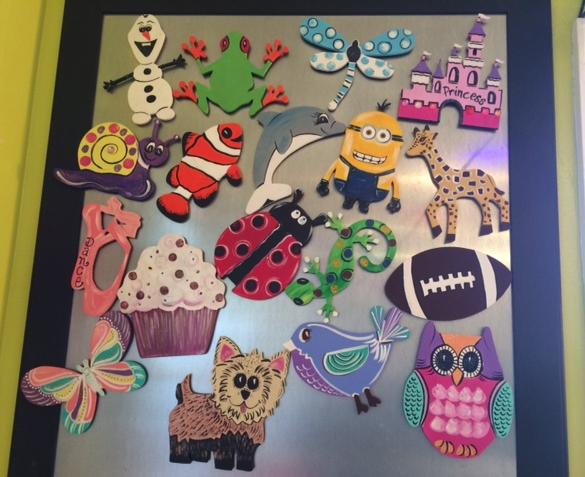 CANDLES AT THE CLAY HOUSE!
Candle Making! We are SO EXCITED to now offer a section in our studio dedicated to making your own candles! You choose the colors and the scent, over pour soy wax and add a cute topping - you have a candle that looks and smells good enough to eat! Of course, these only look like you can eat them!
You can come into our studio anytime to make a candle, however, we do recommend that you take one of our candle classes in order to get the basic procedure down. We also offer candle making as a birthday party option which is nice because the candles go home the same day with all the guests. We do ask that the kids be at least 10 years of age, but we assure you that the kids never touch the hot wax. They design the candle and our Clay House staff finishes by pouring the hot wax into the candle. The candle wax sets while the rest of the party is taking place - birthday party candles are $1 2 each plus tax.


These make a really fun ladie's night - we have TROPICAL scents to choose from, the possibilities are endless.
Call us at 355-9999 to schedule a group or to find out when our next candle class will be held.


And it's not too early to start thinking about home made items for gift giving.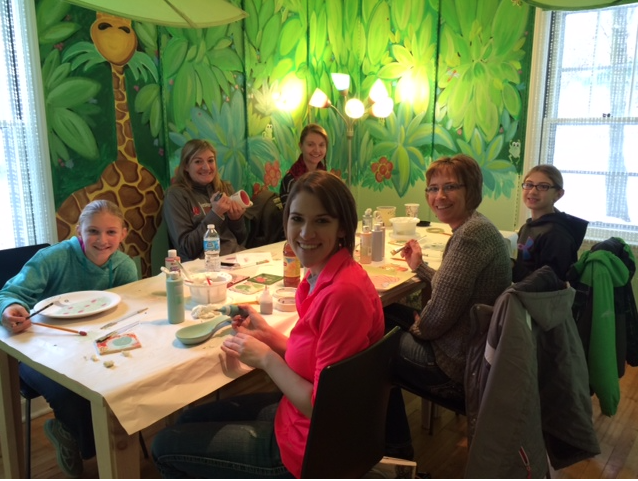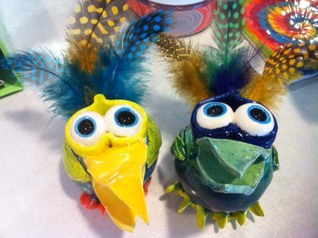 We're happy you stopped by!

Please scroll through the pages to get an idea of what our fun, little studio is all about. We provide a colorful environment with whimsical inspiration. It's a relaxing and fun place to unwind, be creative, and hang out with your friends. Our studio is open 6 days a week and always by appointment. If you want to come in and we aren't open, just ask and we will be happy to open for your group. Thank you for considering our Clay House as your house for creative fun. We hope to see you soon.


Clay House Art Studio located at 2111 Schofield Avenue in Weston. Between Wiggly Field and Target, next door to Bling!
Regular business hours: OPEN Tuesday NOON - 7 PM, Wednesday-Friday OPEN 11 AM - 6 PM, Saturday 10 AM - 5 PM,
Sunday 1-5 PM and Closed on Mondays for the school year. Call us at 715-355-9999. We reserve the right to close early if no painters are in the studio 40 minutes prior to closing. If you have a special time request that you would like to come in, please call us as we are always happy to open at special times to accommodate special requests.
---


Take 'n Bake Pizza is available at the Clay House!
The same delicious pizza you love in our studio is available to take 'n bake in the convenience of your own home! Each pizza is on a 17" family size tray.
If you call us with your order by 1 PM in the afternoon we will take $1 off your order.

Pick up your pizza anytime during our normal business hours.
Cheese
Sausage
Pepperoni
Chicken Bacon Ranch
Tomato Basil
Provolone Cheese
715-355-9999


Summer Camp 2015 was a BLAST!
Mystery
Canvas Class
Was So Much Fun!
Keep watching our Facebook page and our website - you never know what kind of crazy ideas we will come up with next!
---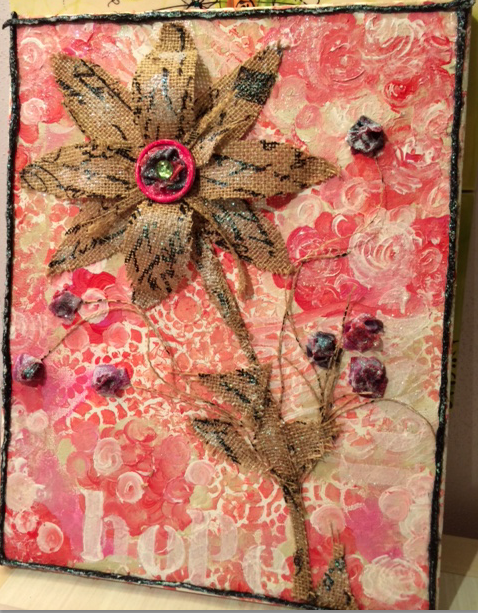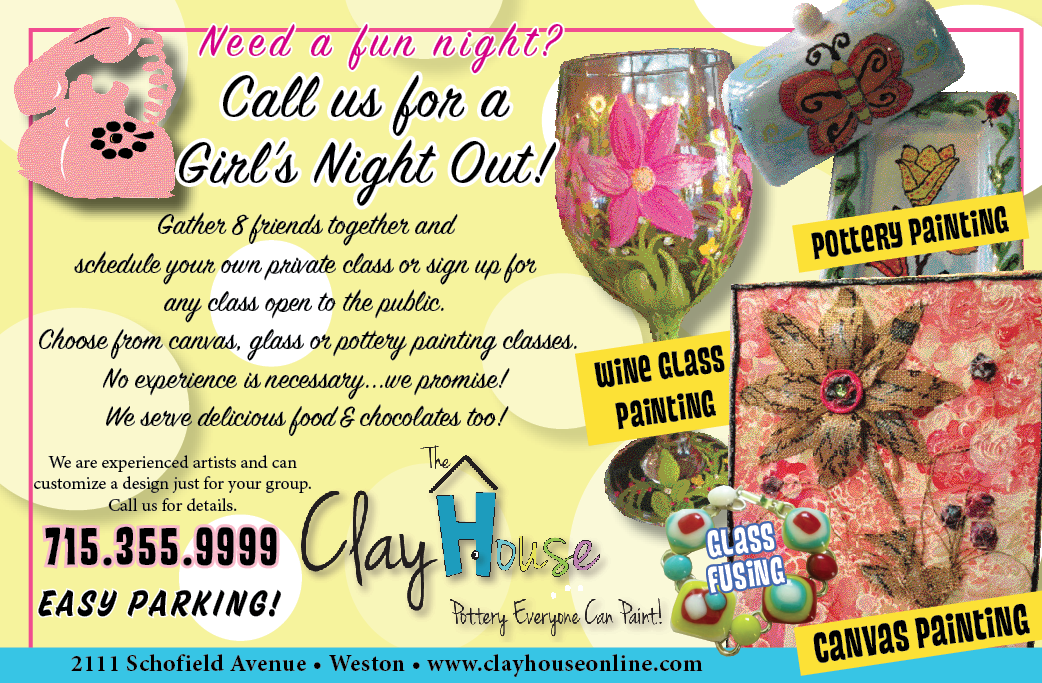 PAINTING ON GLASS!
Gather 8 people together for a private class or watch Facebook and our website for classes to be posted. It's fun and easy with step by step instructions. You can wash your glasses by hand and enjoy for years to come. What a fun and personalized gift to give to someone. Call to schedule 355-9999. Prices start at $20 plus tax. All supplies included.

If you would like a quote on a custom painted glass to give as a gift, call the studio at 715-355-9999. We will be happy to price a custom painted design for you. Add ribbon and some delicious Clay House chocolates and you have a FUN gift!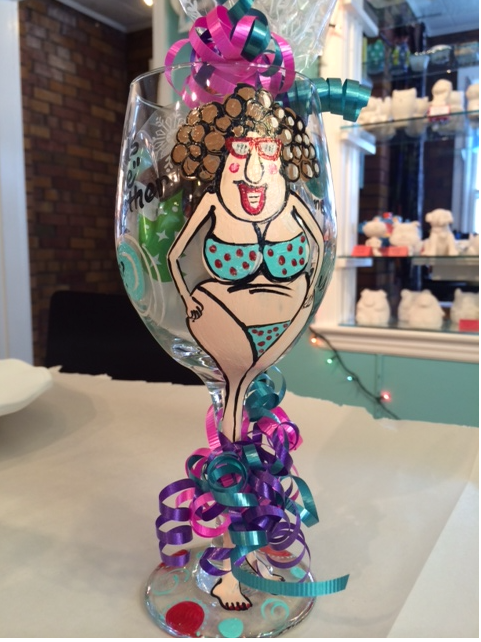 Painting on canvas is fun and is easier than you think!
We take you step by step - no experience is needed and you take your canvas home the same night! Ladies nights, birthday parties, team building events are all great reasons to schedule a class- or gather 8 friends and schedule a private class just for your group!
Most classes last approx. 2-2 1/2 hours and cost $25 plus tax. Some will vary depending on the materials used. Prices for each class will be posted with that particular design.

We offer delicious food from our kitchen so arrive hungry ( kindly call us ahead of time with your food order so it will be ready when you arrive) 715-355-9999

If you have a custom design in mind simply ask. We are experienced artists and can custom design something to fit your needs.



" I Can't Paint! "
The most important thing is to arrive at class with an open mind and plan to have fun. So many times we hear "I can't paint" or "this is going to look like a 2 year old painted it" .... but we can assure you that by the time you leave our studio you will have a piece of artwork that you are proud to hang up at home or at work.
This is a chance to relax and simply have some fun! Our price structure is affordable because more times than not, all it takes is one class and you're hooked to come back and paint again!




This is a fun gift idea! We will supply you with a canvas, a painted vase and one flower to get you started. Everyone at your party then paints a flower on the canvas....you bring the canvas back to us and we add the stems, details and glitter. You add a frame and the recipient has a fun and memorable keepsake. We will supply you with brushes and paints ( a deposit will be taken at the time you get them ) No painting experience is needed. The canvas example on the left was painted by men, women and small children and my daughter's going away party. Everyone painted whatever kind of flower they wanted. Now she has a special piece of artwork to remind her of a fun day spent with family and friends. Call Gretchen at the Clay House for more details. 715-355-9999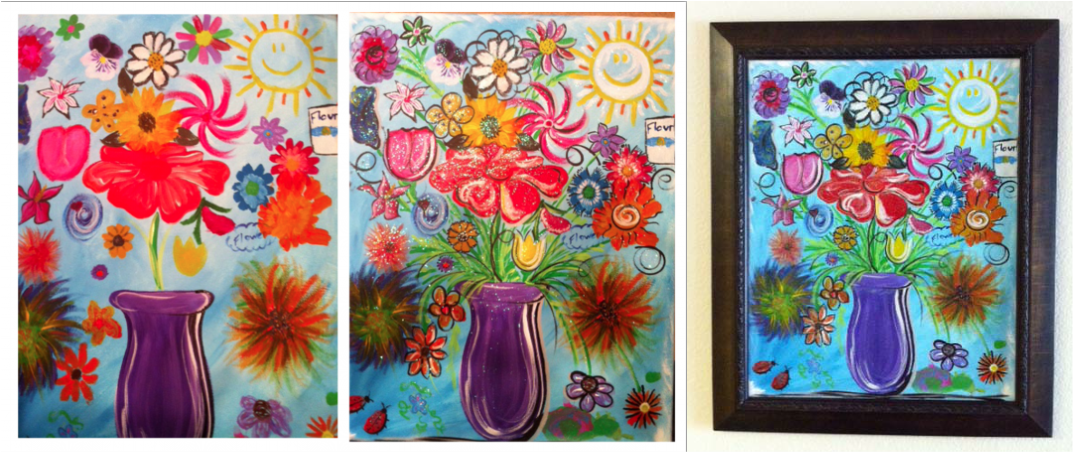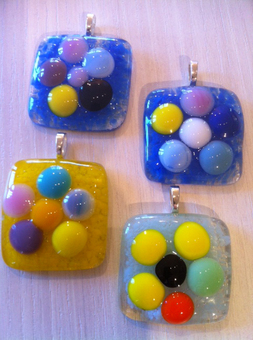 Book a glass pendant birthday party at Clay House and make a pendant like these for only $10!
---


The Clay House is a proud bowl and soup sponsor for the Neighbors' Place Empty bowls fundraiser. Our next painting session will be coming in the Fall of 2016. Watch for details to be posted this summer.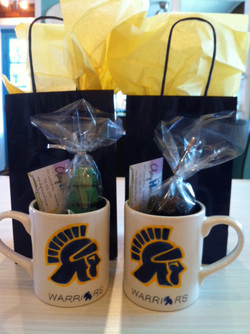 If you would like a customized gift for someone please give me a call at the Clay House. Here is an example of two custom mugs filled with sea salt caramels and chocolate angel mints. The gift wrap was chosen to match the theme. I can provide a quote based on the complexity of the design.

---

House numbers make a great gift!
---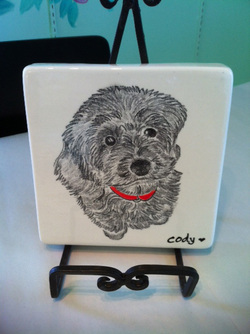 If you have a photo of your pet and would like to have it drawn onto pottery please call us! We can do custom orders of your best furry friend!
---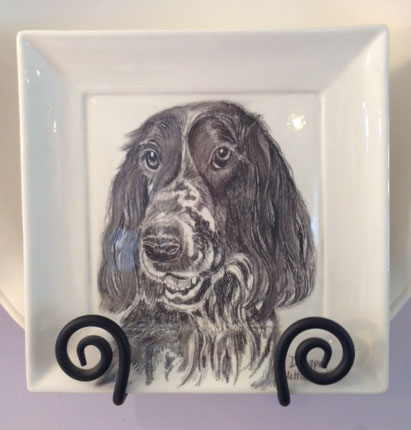 We love our fur babies!
---
Custom plates, platters and mugs make wonderful wedding gifts. These are "WOW" gifts when they are opened and do not cost a lot of money to give as special gifts. Call the studio for pricing. Allow a minimum of 3 weeks prior to your date needed. Inspiration can be taken off the wedding invitation or other ideas specific to the recipient.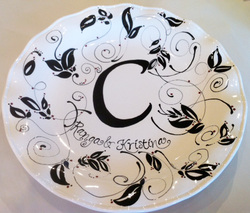 Custom Wedding plates make great gifts!
---
Corporate gift ideas. Business logos are a terrific idea!
---
Add your company logo to any piece of pottery. We can customize it for you for a small fee or walk you through the process on your own!
---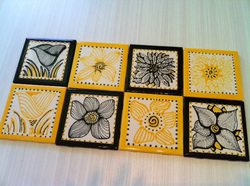 Paint coasters for hostess gifts! You can personalize them and they will be something treasured for years to come!
---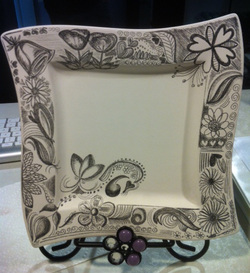 You can decorate pottery with underglaze pencils that we have in our studio. The pottery is then glazed the same as the pottery you paint and turn out beautiful!
---